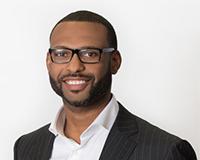 James has always lived by four words, DON'T EVER ACCEPT FAILURE! A native of Los Angeles, CA, James' parents moved to the small town of Dry Prong, LA to enjoy the retired life. Following high school, James made his way to Baton Rouge, LA where he embarked on the collegiate journey at Louisiana State University.

James worked his way through college by becoming a DJ that went by the name of DJ Deaf. James has had the opportunity to travel the country building relationships with influential people in business, sports, entertainment, and the community while and gained unforeseen notoriety in the process. All the while, he remained rooted in his faith in God and mantra of never accepting failure.

In addition to his DJ career, James' vibrant personality landed him a talk show for the #1 radio station in Baton Rouge. He's since become a mentor to students and an active volunteer in the community and a number of organizations.

Now, he's tacked on real estate to his career roles, and he is licensed in both Texas and Louisiana.

"I'm always asked how do I find time for everything. It's simple, have faith and patience! I pay attention to the details my clients desire. I treat all with the respect they truly deserve and that's the only way I see it. I put my clients wishes before my own."

If you're looking to buy, sell, invest or lease, James will exceed your expectations and ensure your transaction is handled smoothly.

Send James a Message